RTA Web - Mechanic Inspections Overview
The RTA Inspection Module was designed as an interactive inspection with time tracking and Work Order update capabilities. It has the ability to create a customized electronic inspection records and to update/create work orders based off of inspection results.
Now available on RTA Web, technicians are able to clock into a paperless inspection attached to a work order line.
Adding the Inspection to a Line
With the work order line created, there is an "Inspection" add button in the top-right corner. Click on inspection to launch a list of the available options. Click the option desired to add it to the line.
Once added, the inspection will open, or it will show on the work line with an "!" icon for incomplete. Click the inspection to begin.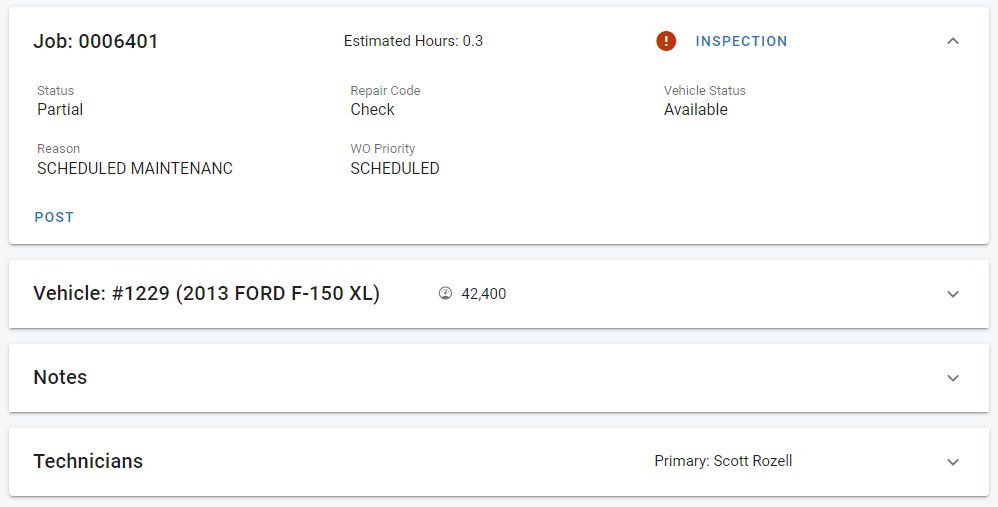 Inspection lines will show as "Incomplete" until the technician says otherwise. In order to finalize the inspection, all lines must either show a status of "Passed" or "Failed"
Notes and details can be added to each inspection line as required/desired:
Once all lines are complete with a Pass/Fail status, click "Finish" at the bottom of the screen to close the inspection.
RTA Web Inspections follow the same rules as RTA Classic, being that if "defects" or "prompts" are required for a failed line, they need to be fully fulfilled. Details on creating Paperless Mechanic Inspections can be found at https://docs.rtafleet.com/rta-manual/paperless-mechanic-inspections/
Failed inspection lines request prompts/defects so RTA can add failed lines as new work order lines on the work order. This keeps vehicles healthy and properly repaired before becoming active again.
When all lines are complete and the inspection is properly closed, the work order line will show the inspection as follows, checked as completed:
The work order line cannot be closed until the inspection is fully completed.