Receive Zonar Driver Inspections
To receive and import the Zonar driver inspections into the RTA Driver Reports module, simply execute the Zonar DRI shortcut and then select a facility from the drop down list. The facilities that appear on the list are facilities for which the Drivers Report configurations have been setup (WDS). Once a facility has been selected, a screen similar to the one shown below appears, indicating that the DRI program is loading data from the Zonar database: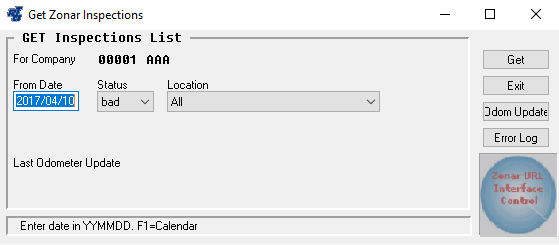 When done, the Loading data from Web… message disappears. At this point, you can minimize this window. The program will poll the Zonar database at the next interval as indicated in the Retrieval Timer configuration for that particular facility (WDS).
If you need to do manual polling before the next scheduled automated polling, specify the date, status, and Location of the inspections you wish to poll and then choose Get. The choices in the Location drop down list come from the settings in the Zonar System. In the Status drop down list, you have a choice of:
Red: The vehicle is down or unsafe to operate.
Yellow: The vehicle has defects but can still be safely driven.
Green: No problems indicated during the inspection. Normally, this status is not selected since work orders won't be needed.
All: This option imports all statuses.
Bad: This will import any inspection reports that have a Red or Yellow status. This is the recommended setting.
Data imported from the polling is accessible by selecting WOs > Drivers Report Maintenance > Review Driver Reports from the RTA main menu (WDD). The shop supervisor can review the VDRs from this option and create work orders as needed. When a job is completed and the work order line is Closed, the Zonar database is automatically updated to show that the necessary corrections/adjustments have been made. Refer to "Reviewing Driver Reports" for more information about this process.