Navigator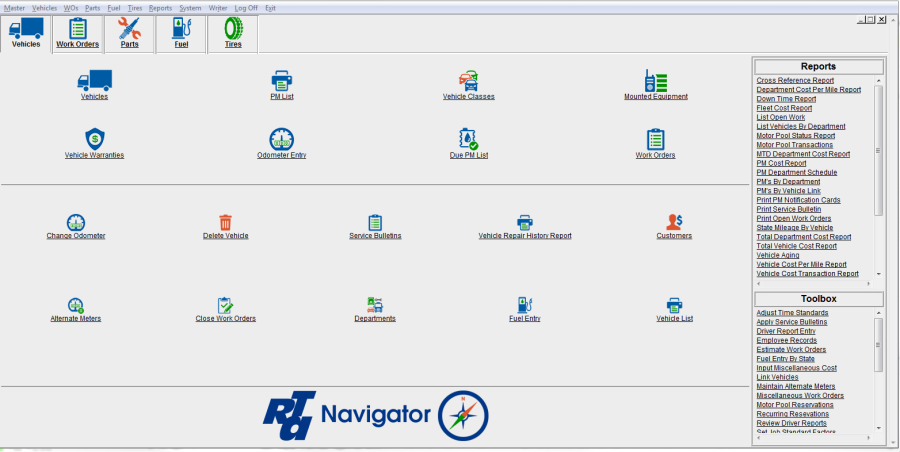 The Navigator is an alternate navigation screen for the Fleet Management Software. It is an addition to the standard drop-down menu. It is a graphical style of navigating which is separated by tabs containing the primary modules of the software; Vehicles, Work Orders, Parts, Fuel and Tires. Within each of these tabs are large buttons leading to the primary features within that module. These large buttons are accompanied by smaller buttons for secondary options. The right side of the navigator is divided into two sections; Reports and Toolbox. These sections contain links to the most common reports and utility functions related to the primary module currently being viewed.
Accessing the Navigator
If you prefer the navigator to the drop-down menu, it can be selected as the default navigation option. Others may prefer the standard menu. The system allows each user to specify and save their preference!
Navigator as default option
Edit a user's button menu preferences as detailed in the Adding Quick Launch Buttons section. (SUM or SUQ). Check the "Use Navigator" box. Each time the user starts the RTA software, the Navigator is presented.
Navigator as secondary option
Users will be presented with the standard drop-down menu, but may still elect to launch the Navigator manually.Simply click the large NAVIGATOR button at the bottom of the RTA main menu.When you are finished with the navigator, it can be closed by clicking the close button (X) in the upper right corner.